About Us
We are comedy writers Marc Blakewill and James Harris, and we're currently working with a number of production companies on sitcoms, sketch shows and television formats.
We have been professional writers for a number of years now and have written on a plethora of shows throughout the past few years, including Horrible Histories, Russell Howard's Good News, Sorry, I've Got No Head, and many others.
As well as writing on existing shows, we create our own content for the web, and have recently diversified into the world of publishing, with our first comedy book due out later in 2013.
We received a BAFTA nomination as part of the writing team of Horrible Histories series 1, were principal writers on the RTS-nominated sketch show TV Or Not TV and were the inaugural winners of the Fringe Report Best Comedy Writers award.
We are represented by Julia Mills at Berlin Associates.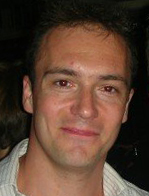 Marc Blakewill
Marc's first foray into comedy writing was when he coralled his sisters into performing a sketch he'd written when he was eleven. At university he became involved in slightly more grown-up humour when he edited his college's comedy magazine and a spoof of the University paper.
After graduating, Marc taught English as a foreign language in Warsaw, Prague and Paris - an experience which has given him a life-time's worth of comic material regarding subordinate clauses and phrasal verbs.
Marc lives in West London with his laptop.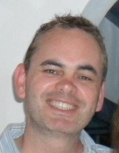 James Harris
Hailing from North London, James is a doctor of biochemical physics; something which has proved invaluable in his writing career. In other former lives, he has been an IT programmer and a school bus driver.
James began his present incarnation writing for the stage where he founded the sketch team HMS Comedy, taking shows to Edinburgh in 2001 and 2002.
As well as writing with Marc, James also directs and edits some of their work and is an occasional voice artist.
James lives in Hertfordshire with his nine year old Mini.
Read our CV